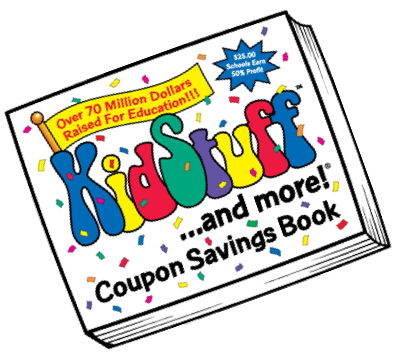 KidStuff Coupon Books is celebrating their 25th Anniversary of exclusively helping schools raise money.  For the first time, they are offering a fantastic opportunity for schools to sell the KidStuff Coupon Books 2017-18 editions for ONLY $15! Books have always been sold for $25…This is a $10 savings! Most coupons are valid through December 31, 2018! Inventory is limited so order books ASAP!!!
Use just a few coupons for shopping, activities and food and quickly save more than the $15 cost! KidStuff is filled with great savings for all ages! While saving money, you are supporting our school!!!
Family, friends and coworkers will love saving with KidStuff! Visit kidstuffcouponbook.com to see coupons for our area!
Please use this link https://getkidstuff.com/discount/1208with our school code to buy any KidStuff edition at the KidStuff Online Store. Make sure our code 1208 appears at check-out.
Let family, friends and coworkers know about KidStuff's online store at getkidstuff.com and to use our school code!
KidStuff will ship the books directly to you and shipping is FREE!
Please order by FRIDAY, MAY 4, 2018 so our school can get paid a 40% profit for each book purchased with our school code. • If you have any questions, please contact the Home Academy Association